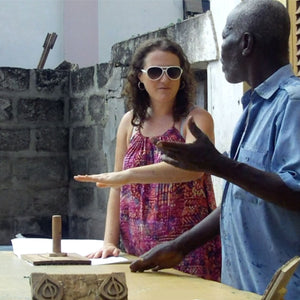 So many hands go into each Rustic Loom product and I wanted to share with you our process. First, I get inspired (usually by nature), then play with shapes and color using paper stencils in my Brooklyn studio.  I then scan the artwork into Photoshop and work into a repeated pattern.  I make diagrams for wooden block cutting, select color ways, select yarns for color matching and approve color tests.  Pigment is mixed and fabric is hand block printed by master printers in Bagru, India.  The fabric is then stitched by a women's empowerment organization providing fair wages for women in India.  Thank...
---
• covid • staff update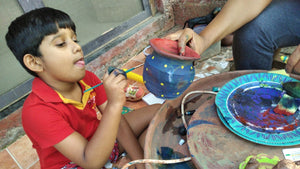 These past several months are trying for us all.  I wanted to share updates about how all of us involved in making Rustic Loom products are fairing during this time.  
---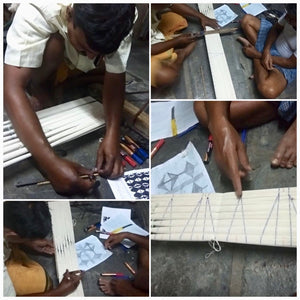 We are so happy to add our new ikat triangle pattern to Rustic Loom's..
---
New Dresses and Tunics in the Shop I love wearing the summer swing dress and three quarter sleeve tunic so much that I am thrilled to share it with you in our shop!   Summer swing dress The summer swing dress fits all body shapes, is available in a loose fit S, L and XL, and feels like you are wearing nothing at all!   Our summer swing dress is available in our ikat cotton and batik linen fabrics- breathable, easy fitting, boho chic ethical fashion that can be dressed up or down.  The neck straps can be tied to size, and are...
---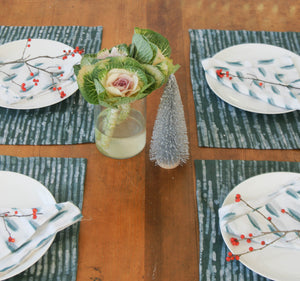 Holiday Table Settings Holiday Table Settings are just as important as the delicious food you present on your Christmas table. I've rounded up some holiday table setting ideas using our table runners, placemats, tablecloths and cloth napkins.  Assort your Christmas table with beautiful mix and match patterns with festive winter white and green that are perfect for the Christmas holiday season. These holiday table decor ideas will impress all your guests - minimalist modern enthusiasts, those who love rustic modern and ethical fashion.   I love minimalist modern color.  I spent some time in Finland, and hold winters and Scandinavian design close to my heart.  Here is a winter white...