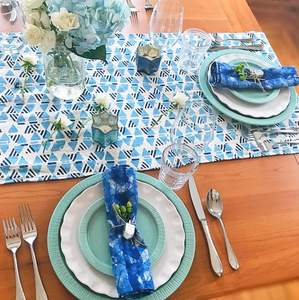 Decor for Chanukah   Are you ready for the holiday season? We've rounded up some Hanukkah table setting ideas using our table runners, placemats, and more. Deck your Hanukkah table in beautiful patterns with festive blue hues that are perfect for the Hanukkah season. These Hanukkah table decor ideas will impress even the fussiest of guests.        Our friends over at Beyond the Balagan, created a beautiful Hanukkah table setting with indigo blue napkins, placemats, and table runners with silver accents.     Chevron batik block printed napkins balance out the white place settings giving it a touch of class. To order see, the links...
---
• batik • ethically sourced • handmade • news • process • story • womens empowerment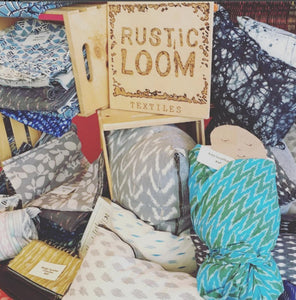 Artisans are Ethically Sourced: We help Empower Women Are you looking for ethically sourced products? If the way people are treated when making the products you use is important to you, you'll appreciate the stories behind our products. Our partner organization employs disadvantaged women who sew our tablewares and housewares. When you purchase from Rustic Loom you are empowering women and making a difference in people's lives by buying ethically sourced products. We'd like to introduce you to some of the faces behind Rustic Loom. See how our beautiful, ethically sourced products end up in your modern rustic home.  ...
---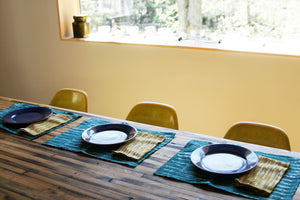 Last week, I spent a sisters' weekend with my sister, Julie, in her friends' stylish rustic modern home near Woodstock, NY.  This was the first time in a long (nearly 4 years) while since I've had a day or two, AND evenings without kids!  I sketched, painted, cooked, went to yoga, and took this pics of some Rustic Loom table linens and throw pillows in this stylish rustic modern home. Our linen batik block printed table napkins and placemats    Linen Placemat Indigo Blue Stripe Hand Batik Blockprinted Set of 4 Brown Grey Linen Chevron Tea Towel- Kitchen Towel   And, I can't...
---
• bohemian • brooklyn • home decor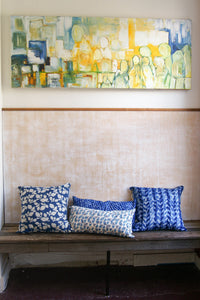 Last week, I had the pleasure of taking a round of lifestyle product photographs for Bohemian home decor at my friend Frid's bohemian home in Brooklyn.  Frid's townhouse in Brooklyn has so many interesting textures and great light streaming in through windows-- I really had a blast, and was exhausted afterwards!  Here are some pics from the day:   I love the rustic and boho textures in the home, the light, and color.  There Rustic Loom ikat table linens and batik table linens, ikat toss pillows, and batik throw pillows fit in nicely in this bohemian decorated home. Shop Now
---
The process of batik block printing is a time intensive one.  A whole lot of love and dedication goes into each of our hand dyed and hand printed batik products:  batik cloth napkins, batik tea towels, batik placemats, batik table runners, batik zipper pouches and clutches, pillows. We are fortunate to work with Mr. Edmunson, a skilled batik artisan in Winneba, Ghana.  Mr. Edmunson has a history of working in textile mills in Ghana where he worked on industrially printed African wax print textiles.  He is now retired from working in the mills (many of which are sadly no longer in existence in Ghana)....