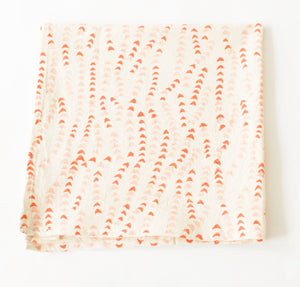 Rustic Loom
Orange, Pink, White Leaf Vine Cotton Blockprinted Dinner Napkin Set
Regular price
$ 78.00
$ 0.00
Unit price
per
Measures: 20 x 20" (approx)
Color: Orange, pink, natural White
Machine wash cold. Tumble or line dry.
Set of 4 napkins.
Cotton Block Print Dinner Napkin
I designed this print in Brooklyn and worked with block printers in Bagru, India to print the cloth. This block print is printed with a hand carved wooden block and non toxic pigment. 
I designed this pattern in my Brooklyn studio, inspired by a succulent vine plant.  I then worked with artisans in Bagru, India who hand printed the fabric.
Block printing is a laborious process whereby one artisan first carves a wood block (in this print- 2 blocks), another artisan (chippha, or printer) dips a hand carved wood block (made by another artisan!) in a pigment paste, allows the fabric to dry in the sun, then washes the fabric to reveal a beautiful pattern.
By buying this Cotton Block Print Dinner Napkin, you are supporting sustainable, ethically sourced products! Amazingly soft fabric, great hand feel, and beautiful on your dining table. This tablecloth will last for years and years to come!
Mix and match with our tablecloths, tea towels, and napkins.
---